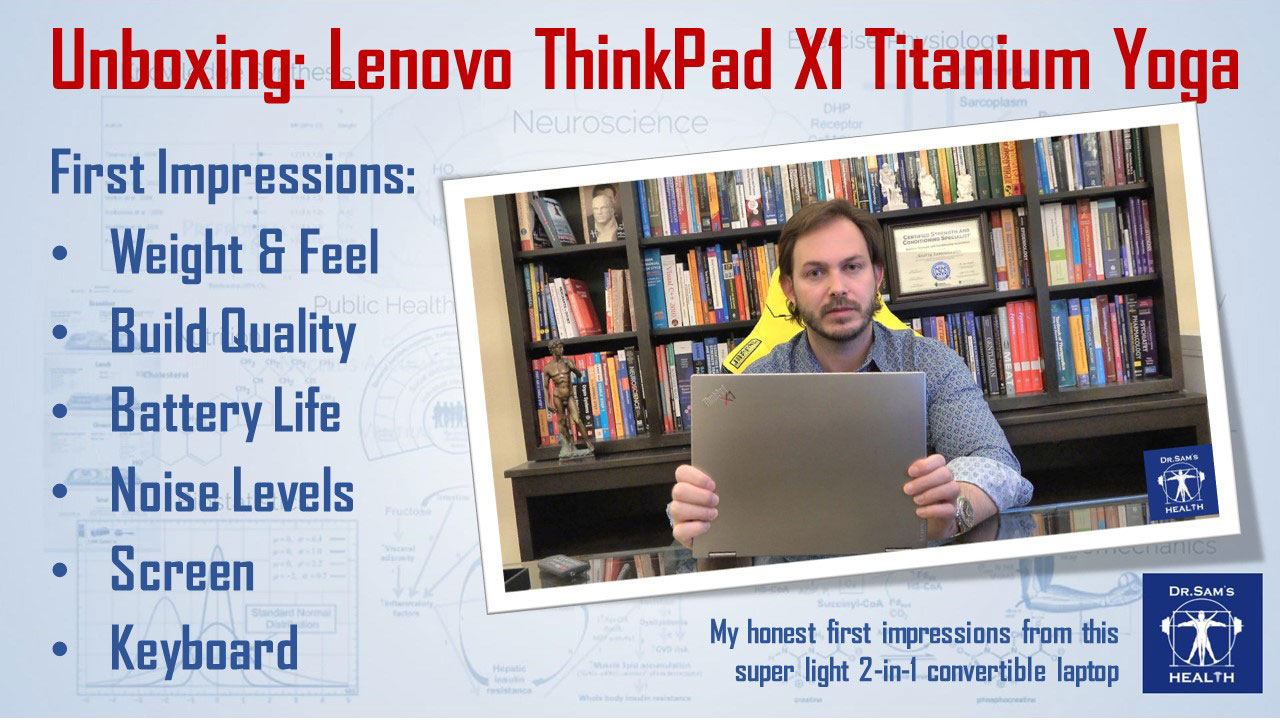 I am on my mission to find the perfect laptop for myself and today I have a new machine in my hands – it's the newest addition to the Lenovo ThinkPad family. I know, I promised to get HP Spectre x360 14", but it turned out that they don't ship them to Canada, so after trying for a while I gave up on this idea. Moreover, being a PC guy, I even looked for a new MacBook Air or Pro. And I even ordered one! And they lost it in the process of shipment and eventually ended up cancelling my order. The silver lining is the fact that Lenovo released this machine and it looked amazingly well on paper, so I decided to give it a try.

The wrapping

I know that I shouldn't be judging that, but at the end of the day, this machine is like an uber-premium device from Lenovo and it costs over $5000 CAD when not on sale. I bought it for $3500+ CAD as it was on March sale, which is much cheaper of course, but it doesn't make it less premium. The machine comes in a cardboard box and inside you will find a neatly packaged laptop in a gorgeous, slim, Lenovo signature black-and-red colored box. Also, the precision pen and charger come in a separate cardboard box inside the larger one.

Look and feel

The device feels premium and is very light – initially, I liked almost everything about it other than the screen that appeared to be reflecting a lot of light. Lenovo announced this laptop as a machine that is supposed to give you a tablet experience and feel and they obviously delivered on that aspect.

Weight

As you might remember one of my major negative points about HP Elite Dragonfly was that it was much heavier than suggested by the advertising campaign – it was 1,111 g instead of "less than 1 kilo" and that difference of 111 g was important enough as it positioned it too close to its competitors such as Dell XPS 2-in-1. The Lenovo machine was promised to weigh 1,150 g and it turned out to be 1,135 g, which is better than advertised and very close to the Dragonfly while being more ergonomic.

Screen

The screen on this device was one of the major reasons I decided to buy it – first of all, it has an aspect ratio of 3:2, which is much more useful for my purposes that 16:9. The resolution is just right – it's a QHD IPS panel (2256 x 1504 pixels) with 450 nits of brightness. I've struggled enough with 4K laptops and, in my humble opinion, having 4K on 13" laptop is just absurd – you can't tell the difference, there are some scaling issues, and they are less energy efficient. FHD screens are getting outdated and appear to be too grainy for modern use, so this device hit the perfect spot. The overall impression was negatively affected by the fact that the screen was reflecting too much light while being advertised as anti-reflective.

Camera

Built-in 720p camera was a major disappointment as the video feed was very grainy. Light and color capture was also mediocre. I had the same experiences with my current Lenovo ThinkPad X1 Yoga Carbon and with my HP Spectre x360. Of note, I once used it to film my home gym assembly and the result was just unacceptable.

Input

Keyboard, touchpad, and precision pen were nice – I enjoyed the keyboard, the touchpad was at least ok, but it could be larger. Also, I don't know why they still keep the three buttons on it – everyone uses gestures and tapping these days. Finally, the precision pen was much larger than the stylus that I have in my Yoga – since the laptop is so thin, they gave up on the idea of trying to put it inside it. Instead, they provided a properly-sized pen, which I liked as I have relatively large hands.

Sound (and noise)

The sound system is Dolby Atmos and I had no issues with it, but the noise this machine made was just ridiculous. Almost right from the start it spun its fans like it was on fire and the noise was so loud and constant that I decided not to denoise my video – it was annoyingly loud! After turning the device and restarting it, it was quiet for several minutes and then it started to heat up and… you guessed it… it began making fan noise again. To be honest, it wasn't as bad as the initial noise, but based on the device build (fan openings are blocked either by a flat surface in laptop mode, or by the tablet portion in tablet mode), it is doomed to overheat and to make noise.

Battery life

This was the final nail in the coffin – this machine was advertised as having up to 10.9 hours of battery life… and I was able to use it for less than 3, which is completely unacceptable and along with the fan noise and reflections on the screen it rendered this device absolutely useless for me.

Summary

The concept of the device is excellent – thin and light device, with 3:2 aspect ratio, optimal resolution, and 11th generation Intel processors… what else can you wish for? I must say that Lenovo delivered on all these aspects, but at the same time the noise and ridiculously short battery life were my deal breakers, and I will not keep it. So, thank you, I am sending it back, and it looks like I should stick to my work-issued Lenovo ThinkPad X1 Yoga Carbon and maybe, when Apple releases its new line of MacBooks with M1X chips, I will give them a try.

If you like blogs like that I would like to encourage you to subscribe to this website, and to my YouTube channel. You are also always welcome to communicate with me via making comments, suggestions, and asking questions, either here, or on social media platforms.

Stay safe, strong, and healthy!

Dr.Sam