In my previous blog, part of my Diet Review Series, I started the discourse on one of the greatest nutritional approaches – the Mediterranean Diet and outlined the general composition of this diet1. Now, it's time to talk about the health effects of this diet, which have been well documented in multiple sources2-4.
The impact on health
The Mediterranean diet has been well studied – there are literally hundreds if not thousands of research papers published on its effects on health, cognition, and longevity. One of the recent review articles [4], explored the associations between various ingredients of the Mediterranean Diet and its overall impact on health.
Specifically, they reviewed a plethora of meta-analyses exploring the associations between the Mediterranean Diet and various chronic conditions. It appears that it has a statistically significant positive impact on coronary heart disease (RR: 0.65, CI95 0.50-0.85), the risk of stroke (RR: 0.65, CI95 0.48-0.88) and heart failure (RR: 0.30, CI95 0.17-0.56), breast cancer (RR: 0.43, CI95 0.21-0.88), type 2 diabetes (RR: 0.70, CI95 0.54-0.91) and hypertension. Of note, the evidence was not conclusive for all-cause mortality, cardiovascular disease in general, various cancers other than breast cancer, asthma, COPD, IBS, and rheumatoid arthritis. I think it makes sense and shows that we shouldn't assign some magical properties to this wonderful diet – it is not a panacea, but it clearly helps with various ailments.
It also has multiple positive effects on body weight and waist circumference (we will discuss weight loss in Part III of this review), various metabolic factors such as serum cholesterol, triglycerides, and glucose levels as well as HOMA-IR, insulin, and CRP2.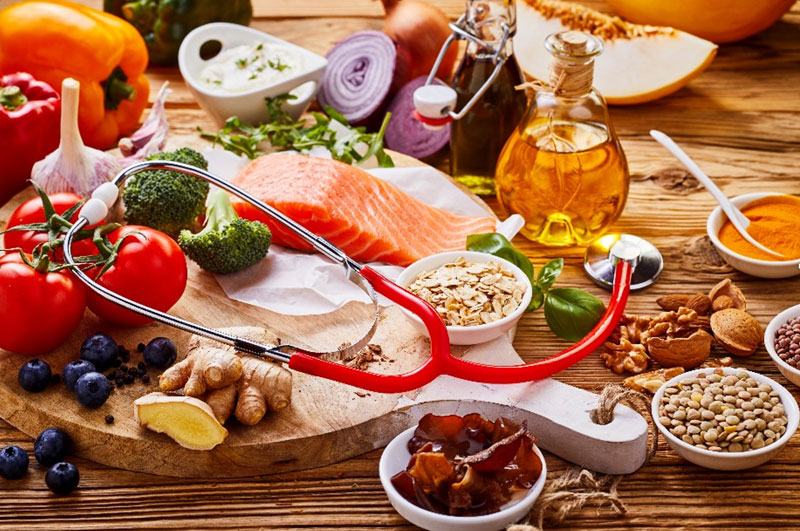 The impact on cognition
Based on the review of multiple cohort studies and randomized controlled trials performed on healthy seniors3, the Mediterranean Diet is strongly associated with improvements in global cognition, likely due to its beneficial effects on cardiovascular health and metabolic risk factors. More granular analyses data on specific cognitive functions were much less definitive. Nevertheless, we can clearly see the association between the Mediterranean Diet and reduced risk of mild and major neurocognitive disorders such as, for example, Alzheimer's disease.
Why?
There are plenty of explanations of why the Mediterranean Diet is so beneficial for some health aspects and I think that most of them have merit and the end result of going on a Mediterranean diet is overall improved nutrition and all the wonderful things that come with it – more balanced macronutrient composition, reduction of intake of foods that are associated with better health outcomes, more complete set of micronutrients and, of course, inclusion of various substances that are associated with better health outcomes such as dietary fiber5, omega-3 fatty acids6, polyphenols , certain spices7 etc.
Summary
The Mediterranean Diet is a wonderful diet as it is proven to have beneficial effects on multiple metabolic factors and is strongly associated with reduced risk of various conditions and improved cognition, which is the main reason I included it into my book "The Rational Diet" as one of the best nutritional styles. We will definitely review its impact on weight loss and maintenance in the third installment of this blog. You can also check out my YouTube channel for related videos.
Sincerely Yours,
Dr.Sam
Video: Diet Review: How Healthy is The Mediterranean Diet?
References
1. Davis C, Bryan J, Hodgson J, Murphy K: Definition of the Mediterranean Diet; A Literature Review. Nutrients 2015, 7(11):9139-9153.
2. Dinu M, Pagliai G, Casini A, Sofi F: Mediterranean diet and multiple health outcomes: an umbrella review of meta-analyses of observational studies and randomised trials. European Journal of Clinical Nutrition 2018, 72(1):30-43.
3. Loughrey DG, Lavecchia S, Brennan S, Lawlor BA, Kelly ME: The Impact of the Mediterranean Diet on the Cognitive Functioning of Healthy Older Adults: A Systematic Review and Meta-Analysis. Adv Nutr 2017, 8(4):571-586.
4. Schwingshackl L, Morze J, Hoffmann G: Mediterranean diet and health status: Active ingredients and pharmacological mechanisms. British Journal of Pharmacology 2020, 177(6):1241-1257.
5. Keogh JB, Lau CWH, Noakes M, Bowen J, Clifton PM: Effects of meals with high soluble fibre, high amylose barley variant on glucose, insulin, satiety and thermic effect of food in healthy lean women. European Journal of Clinical Nutrition 2007, 61(5):597-604.
6. Goyal A, Sharma V, Upadhyay N, Gill S, Sihag M: Flax and flaxseed oil: an ancient medicine & modern functional food. J Food Sci Technol 2014, 51(9):1633-1653.
7. Ravindran AV, Balneaves LG, Faulkner G, Ortiz A, McIntosh D, Morehouse RL, Ravindran L, Yatham LN, Kennedy SH, Lam RW et al: Canadian Network for Mood and Anxiety Treatments (CANMAT) 2016 Clinical Guidelines for the Management of Adults with Major Depressive Disorder: Section 5. Complementary and Alternative Medicine Treatments. Can J Psychiatry 2016, 61(9):576-587.