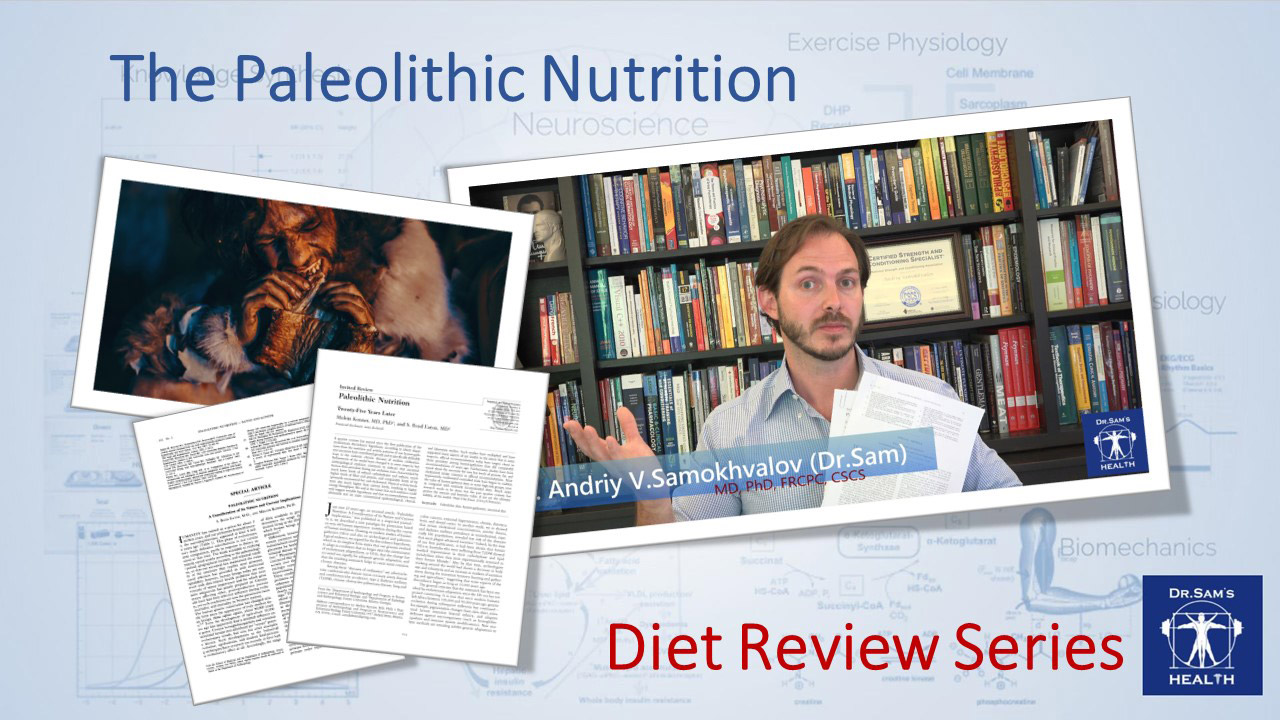 We are going to take a break from COVID-19 coverage and refocus on nutrition and diets. My next diet to review in the series is the Paleo diet as I've mentioned it in several blogs already and seems to be the most logical next entry. The whole concept of the Paleo diet stems from the idea of returning back to our roots and to eat as our ancestors did prior to the agricultural revolution, which occurred 10-11 thousand years ago, in the end of the Paleolithic era.

Before talking about this diet, I would like to review what we know about our ancestors' nutrition at that point. I will use two excellent reviews of paleolithic nutrition by Koster Eaton and Melvin Konner – the original article1 published in 1985 and the 25-year follow-up piece2. Both are amazing sources of information gathered by two true scientists and organized in a thoughtful and logical way. Also, it appears that the first review laid down the foundation for the Paleo movement to begin with. So today we are going to double down on our return to our roots both in terms of nutrition and in terms of science.

What is Paleolithic period?

I think it makes sense to start with defining the Paleolithic period, or Old/Ancient Stone Age. It turns out to be rather long – it began when our ancestors started using stone tools around 2.5 million years ago and ended very recently by evolutionary standards – around 10,000 BC, or 12,000 years ago, effectively the end of the Paleolithic period coincided with the agricultural revolution, so it makes sense to talk about the Paleolithic nutrition patterns as pre-agricultural. Also, the end of the Paleolithic period coincided with the end of the last Ice Age, which resulted in climate change, rising sea level, extinction of large mammals, and forced early humans to migrate. I would also assume that it made agricultural revolution not only possible, but likely inevitable – it appears that we were pushed towards farming instead of hunting and gathering as the resources were becoming scarcer and our own population was growing.

Who were our ancestors?

Speaking of the population – let's talk about our ancestors. Who were they? Interestingly enough, since the period was so long, those of our ancestors who lived in the very beginning of the Paleolithic era were quite different from us genetically. In fact, the beginning of the period coincided with the extinction of Australopithecus genus (quite far from us genetically) and the first appearances of the Homo genus such as Homo habilis 2.3 million years ago. The Homo genus further evolved into our direct ancestor Homo erectus 1.9 million years ago, and then – into us, Homo sapiens, ~200 thousand years ago. Please see the human evolution timeline presented in Figure 1. And there is a fantastic article on Encyclopaedia Britannica if you are looking for more details.

Of note, there is a consensus that Homo sapiens who lived 20-50 thousand years ago were already modern humans anatomically and were close if not identical to us genetically. Therefore, it only makes sense to review the lifestyle and nutritional patterns of our closest ancestors, Homo Sapiens, who lived in the late Paleolithic period and not focusing on those who lived way before them and were quite different from us in so many ways. And since we believe that the Agricultural revolution had such a significant impact on our lifestyle and nutrition3, I will talk primarily about the time period ending just before it (~10,000 BC).

How did our ancestors live during the Paleolithic period?

The prehistoric humans were hunter-gatherers – they used the basic stone (hence the name of the period) and bone tools. They fished and hunted birds and animals, collected berries, fruits, and nuts. Early in the Paleolithic period they lived in caves and then gradually transitioned to simple huts and tepees. They knew how to make a fire and used it to cook their prey. As far as we can tell they were even able to create some art – carving figurines from stones and bones and using clay to make sculptures. They were also able to make some painting materials and used them to draw on the walls of their caves. These drawings later became a rich source of information on their lifestyle and activities. And of course, they gave us some hints in terms of what their nutrition was like.

Pre-Paleolithic and early Paleolithic nutrition

I said that we will focus on late Paleolithic period in the beginning of this blog, but I feel that I should at least mention the food sources we had prior to that. And the reason for that is that it looks like we alternated our main food sources throughout our evolution. Our early ancestral mammals, way before the Paleolithic period, were insectivores and invertebrate predators – they ate insects and other small creatures, but as they evolved, their demand for nutrients increased proportionally to their body size and they switched to more plant-based nutrition as it was easier to obtain in larger quantities. Early hominids were heavily relying on fruits in the pre-Paleolithic period (24 to 5 million years ago), but around the time we have diverged from apes (7.5 to 4.5 million years ago) our ancestors were consuming increasing quantities of meat, whether from hunting or scavenging the leftovers of more successful predators' prey. Homo habilis and homo erectus were consuming even larger quantities of meat in the Early Paleolithic period.

Of note, these findings are based on the archeological evidence and it's much harder to trace plant-based foods as they decompose much faster than bones. On the other hand, the tools needed for hunting were found in abundance at almost all archeological sites whereas the tools needed to process the plants like grinding stones or mortars and pestles were not found that frequently. My point is that the evidence of plant-based nutrition in early Paleolithic period is not written in stone (pun intended) and there is a great deal of uncertainty about our early ancestors' lifestyle and nutrition. Luckily, we were going to focus on the late paleolithic period anyways.

Late Paleolithic nutrition

So, what did our most recent ancestors, the ones that were the closest to us genetically, ate? The answer is still surprisingly ambiguous as with this, relatively recent period in our history, we get more data from different parts of the world, but these data are often conflicting. One thing I can be sure about is that our ancestors were omnivores (please see my blog on that), but depending on the time period, geographical location, climate, and resources available to them, the proportion of plant- and animal-based foods varied greatly. Some researchers claim that early homo sapiens' diet comprised of at least 50% plant-based nutrients 50 thousand years ago, implying that the majority of their nutrients came from plants. But if we look at Cro-Magnons, who were big game hunters and appeared to represent one of the most physically developed lines of our ancestors, we will see that they relied heavily on game meat. And, obviously, our ancestors switched to predominantly agricultural products with the Agricultural revolution. Of note, there are still some modern societies that might give us a good idea on what our ancestors' lives and nutrition were like.

Modern hunter-gatherer societies

There is a big question whether modern hunter-gatherer societies preserved exactly the same lifestyle and nutritional patterns as our ancestors had, but they are the closest we can ever get to our ancestors, so it totally makes sense to study them and their nutrition. Majority of them consume diets consisting from 50-80% plant-based foods, with some exceptions of aboriginal arctic communities who can get over 90% of their nutrients from animal sources, mostly fish, and Aché of Paraguay who get 80% of their nutrition from animal sources. Eaton and Konner still argue that the general structure of nutrition of modern hunter-gatherer societies remained unchanged for the most part and, accordingly – that we should follow their nutritional regimen if we want to return to our roots.

Wild vs. farmed foods

When they compared the modern hunter-gatherers to our ancestors, they pointed out that wild game and wild plants likely were not that much different now and then. And I agree with them completely as it will be important for our discussion on the Paleo diet and for our attempts to recreate the ancestral nutritional patterns. They also paid attention to the fact that both animal- and plant-based foods that we farm are very different from their wild counterparts. For example, modern meat has around 25-30% fat or even more whereas game meat of "free-living herbivores" has on average around 3.9%. This is obviously a huge, 6-8-fold, difference in fat content, which results in game meat having less calories and more protein per unit of mass. The cholesterol content and the amino acid composition are roughly the same. Of note, the meat of domestic animals has almost no eicosopentaenoic acid (EPA), whereas the fat of wild animals has up to 4% of this amazing ω-3 fatty acid.

There are also significant differences in plant-based nutrition – first of all, our ancestors consumed a much wider variety of crops, but at the same time there are quite a few plants that were introduced or significantly "enhanced" by selection in the post-agricultural era. The main difference between wild and "cultivated" plants is the starch-to-protein ratio, or to put it very simply – the amount of carbohydrates they contain – modern, cultivated fruits and vegetables contain much more starch and sugars than their wild counterparts and, in addition to that, we tend to select the ones that have the most of carbohydrates because they are sweet and tasty, and we were fat-scared in the past several decades, so we steer away from fats and gravitate towards the carbohydrate-rich fruits and vegetables.

Things our ancestors didn't eat at all

There are four major groups of nutrients that are considered to be essential by our nutritional guidelines. As a matter of fact, this is one of my major issues with these guidelines – I will talk about it in a dedicated blog as this problem is really big and confusing. These four groups include meat and fish, vegetables and fruits, milk and dairy products, and bread and cereals. Effectively, our ancestors ate only the foods from the first two groups.

So far we've been discussing the ratio of animal- and plant-based foods in their diet, but it must be noted that they didn't consume certain foods, or even food categories at all. Like they didn't get any milk other than their mother's milk, and they were not consuming any dairy products. The also did not have access to any significant source of cereals – I can imagine them having some, very minimal and very occasional grains here and there, but the contribution of this food group was truly negligible. Personally, I believe that this last major food group is one of the worst things that ever happened to us as a result of agricultural revolution as cereals brought to us gluten and associated issues, high amounts of starch and carbs in our diets and the crazy idea of breakfast being "the most important meal of the day". More on that in the future, I promise!

The Paleolithic Diet Composition Estimates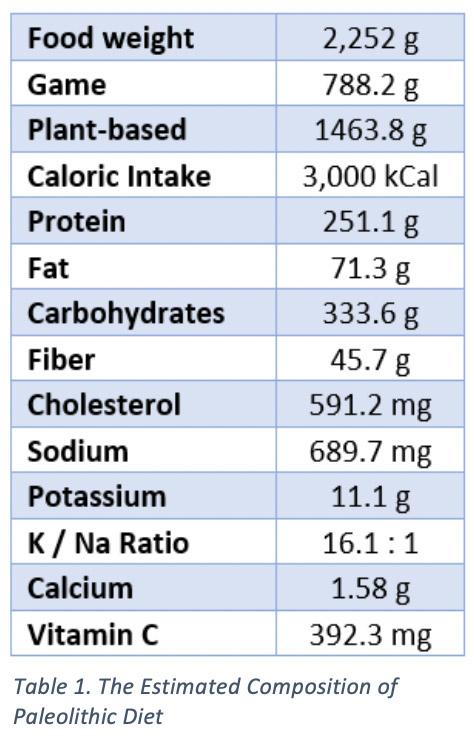 How would a typical paleolithic nutrition pattern look like? Eaton and Konner made their calculations based on a hypothetical diet with a 3,000 kCal daily food intake and a 65% to 35% plant- to animal-based foods ratio. It's not clear where the 3,000 kCal of daily energy intake came from, but the 35% food coming from animal sources clearly stems from their research on modern hunters-gatherers. Of note, they did not assume that our ancestors were carnivores, nor they modelled a pre-historical vegan diet (See Table 1 for details) – everything is in balance and hence we get such a nice outcome. The paleolithic diet would yield on average 251.1 g of protein, which is more than enough to build muscle, and to satisfy all imaginable demands for amino acids. It would have around 70 g of fat (71.3 g to be precise), which, along with 333.6 g of carbohydrates, would provide our ancestors with sufficient amount of energy for daily activities – 1,976 kCal would come from fat and carbohydrate and some unused protein can be used to supplement energy requirements. Also, they would get a great amount of fiber – 45.7 g per day, which is great for intestinal health and some cholesterol - 591.2 mg. Current recommendations are 300 mg or lower, but I believe that our current standards for cholesterol intake are too strict to begin with. This amount is equivalent to cholesterol in 2 eggs, so I don't think it would create a serious health risk. More on cholesterol in one of my future blogs since it's such a controversial topic! Finally, they would get a very good, balanced, numbers in terms of micronutrients – a relatively low amount of sodium, higher amount of potassium with an excellent ratio of 16.1 to 1, good amounts of calcium and vitamin C, and at least adequate amounts of all other minerals and vitamins. No wonder their diet appears to be so healthy!

Association between nutritional patterns and health

Lastly, it's important to talk about the association between the nutritional patterns we've seen throughout our history and our health. Eaton and Konner make an interesting observation that the humans from prehistoric societies that were relying on hunting and game meats appeared to be better developed physically. They even give us two examples of Cro-Magnons and Paleoindians who were approximately 6 inches taller than their descendants who switched to plant-based nutrition. Cro-Magnons, specifically, had larger brain size – around 1,600 cc vs. their descendants, including us. Average human brain is at least 100 cc smaller, though I am pretty sure that it doesn't correlate with intelligence or cognitive functioning. Also, they noted that the descendants of Paleoindians had multiple indications of malnutrition and likely had poorer bone health.

But, most importantly, they made a clear connection between the agricultural revolution, the changes in our nutritional patterns and the epidemic of heart disease, diabetes, hypertension, obesity, and many other ailments that were less likely to occur in our ancestors and are apparently unheard of in the most modern day hunters-gatherer societies. There are a lot of hypotheses here that we will explore in the future. In particular I would like to take a look at the Paleo diet – we will see whether it is feasible to begin with and if there is scientific evidence supporting its adoption by modern day humans. I hope it will be interesting and educational and if you don't want to miss anything, please subscribe to my website and to my YouTube channel – there is a lot of information presented there. And of course, you can always ask questions, make comments and suggestions either on YouTube, or here on my website.

Sincerely Yours,

Dr.Sam

References:

1. Eaton SB, Konner M. Paleolithic nutrition. A consideration of its nature and current implications. N Engl J Med. 1985;312(5):283-289.

2. Konner M, Eaton SB. Paleolithic nutrition: twenty-five years later. Nutr Clin Pract. 2010;25(6):594-602.

3. Cordain L, Eaton SB, Sebastian A, et al. Origins and evolution of the Western diet: health implications for the 21st century. Am J Clin Nutr. 2005;81(2):341-354.